Corporate Equus Workshops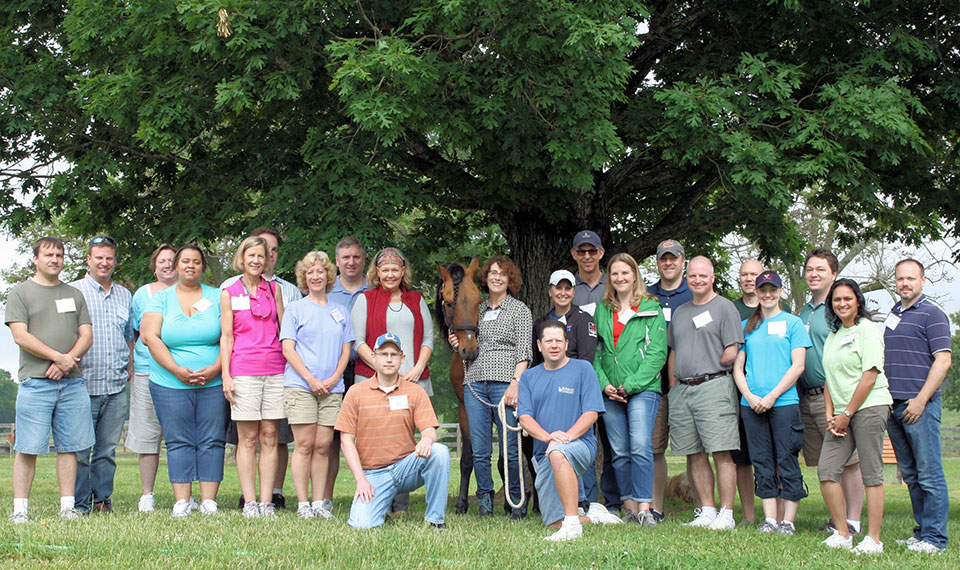 Berkley Mid-Atlantic Group, a W.R. Berkley (insurance) Company, counts on EBH Equus Coaching to develop leadership skills and cohesive work teams. Watch a video summary of their experience here. 
Today's corporate and non-profit leaders—both current and in-training—must learn to read clues in their environment, set strategy, sustain their own performance, maintain trusting communication throughout the organization, form cohesive teams, and course-correct in uncertain, stressful times.  Equus Coaching teaches these skills and more.
A unique, somatic learning tool, Equus Coaching quickly spotlights each participant's strengths and challenges, both individually and on a team.  Working with a horse—any horse—in exercises from the ground, you'll learn what to set a clear intention and share honest two-way communication with this master of body language from another culture.  The horse is an 1,100 pound biofeedback machine that will subtly mirror your thoughts and emotions and reward even the tiniest positive shifts in your energy.  Skilled coaching helps you understand what you are seeing so you can integrate the feedback.
Your certified Equus Coach™ helps each participant identify their habitual patterns of thought and action, and then try out new ways to express their strengths throughout their life.  Equus Coaching benefits permeate work, home, and beyond.  Participants leave the farm deeply moved and renewed.  A follow-up coaching call within a month afterwards helps the learning stick. 
Why horses?
As highly sensitive prey animals who function in herds, equines are still wild enough to give unfiltered, immediate feedback about how we communicate energetically, wordlessly.  The same calm, clear, peaceful, compassionate energy that inspires a horse to follow you will make you a more effective leader with humans.  Interpersonal communication is 70% body language, 20% tone of voice, 10% words.  Horses and a skilled Equus Coach™ help you make that 90% count.
There is no faster or more effective way to learn to implement leadership skills than by accepting 1,100 pounds of instant, kind, transparent feedback from a horse.
—Kelly Eide, Master Equus Coach and EBH Equus Coaching partner
---
EBH Equus Coaching is a proud to partner with the Virginia Commonwealth University's Center for Corporate Education to provide Equus Coaching™ services to VCU corporate clients.
Whether you are unfamiliar with horses or a seasoned pro, the combination of a skilled coach and a gentle giant never fails to provide challenge and insight. Equus Coaching™ has become a cornerstone of my own personal development strategy as well as a resource I use with my individual and corporate clients.A day with the horses brings powerful glimpses of how your thought patterns and energy affect everything and everyone around you. The horses beautifully reflect what a person brings into the round pen—which is, of course, what they take everywhere.But without a skilled coach's gentle guidance, you might be left wondering, "So what?"  and "Now what?" An Equus Coach™ helps you apply new insights to become a better version of yourself.Each coach is unique, and personal fit is key.  Beth shares a unique combination of business acumen, horsemanship, knowledge of how adults learn, and strong, gentle coaching skills that facilitate brilliant personal growth.  The insights gathered on the farm pay dividends for months afterward at the office and at home.
—Gretchen Pisano, MAPP, founder, PLink Coaching Center for Excellence
Read about Beth Herman's first experience with Equus Coaching™ in the EQUUS magazine article "Finding My Path".