"Anything you notice is wrong." –George Morris, immediate-past Chef d'Equipe, US Equestrian Team; author, trainer and hunter/jumper coach extraordinaire.
As a Virginia teen, I studied my bible, Hunter Seat Equitation by George Morris, every night, memorizing from black and white photos his students' beautiful stillness over jumps, their correct hip, knee, and elbow angles merging with their mounts' motion to encourage a horse's best jumping effort.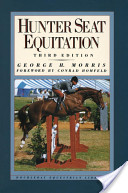 George Morris is an old-fashioned stickler, a winner who knows that safety and high performance result when riders practice exacting, continuous self-improvement and when both horse and rider are meticulously conditioned, groomed, prepared.  In barn aisles and in a rider's position, there is one correct way and anything you notice is wrong.
The hunter competitions about which George* has  taught us so much are home base for Negativity Bias, the psychological phenomenon by which humans pay more attention to and give more weight to negative, rather than positive, experiences or information.  In fact, judging the hunters, where the horse is subjectively rewarded for big movement and precise, consistent jumping style–and where the rider should be invisible–would be nearly impossible without it.  When you're paid to rank the top 6 among 30 beautifully-presented, similarly obedient jumping horses, your heart draws you to the charisma of a few—but the objective criteria are all negative:  who made a mistake and how much to knock off their hypothetical perfect score.
Horse showing is a perfectionist's playground.  A surgeon's daughter, I internalized that ethos all too well.
As a girl, I learned from my trainer what she learned from George—that gaudy attire, flapping elbows, and big pace changes on course all detract from the horse's natural beauty and move you down in the ribbons.  As a groom, I learned to scan the barn environment for anything out of place that could harm a pony or distract the eye.  As a woman, I learned to manage my body to tan breeches' strict standards and to always, always, notice anything wrong.
Neuroscientist Rick Hanson writes, "The human mind is velcro for negativity and teflon for positivity" (Buddha's Brain.)  To counteract negativity bias and maximize performance, positive psychology researchers encourage the active pursuit in any work day of a 3:1 ratio of positive to negative feelings and events.
Self compassion demonstrably empowers positive change.  This is why my mentor coaches have schooled me to notice and release damaging self-judgment.  I'm learning to smile at my judginess rather than telling myself it's BAD and WRONG.  And I'm seeing anew how any strength pressed into overdrive can become a weakness.
So how is noticing what's out of place or "wrong" a strength?
Vigilance can reveal potential problems before they become too big to solve easily or inexpensively–for your house, your health, your horse, your kids.
A snap judgment about something that doesn't feel right can help you avoid a dangerous stranger on the street.
Continuous self-improvement drives achievement and art.  It means taking responsibility.  In every demonstration photo and video, George holds himself to the highest standards, acknowledging how his ride helps or hinders his horse's performance.  This attribute helps great leaders deserve their teams.
And when might noticing what's "wrong" become a weakness?
When you see only weeds, so much "wrong" in the garden, that you miss that new lily bud, give up before you start, and head off to the mall.
When you've so thoroughly owned society's impossible standards of beauty that the only thing you see in a photograph, as happened to me this week—or in the mirror, as began for me at 15—is what's wrong or off, what to correct or control.
When ringside hyper-focus on spotting mistakes and identifying the "perfect" hunter round means you miss the swirling beauty in the schooling area, where equines of every size, shape, and color weave and dance over jumps.
And when you fail to appreciate the vulnerable beauty in every rider's face as she studies the course map, bends helmeted head to take in her trainer's advice, then rides tall and brave into the ring to do her best for today.
I know George sees and celebrates each one.
*I have not had the privilege of meeting George Morris, but he taught my trainer.  Most hunter/jumper riders refer to him by his first name—he's that iconic–and any would recognize the acronym, WWGD?  I hold him in the highest esteem and hope to have the privilege of riding in one of his clinics some day.